During my month of swiping, I matched with a guy who often used to upload selfies which hinted at a six-pack to his Tinder Moment, along with pictures of his fancy looking red car. I made the choice to give him my number early on in the Tinder game based on the prospect of excellent ab selfies. I could only imagine how the conversation would go.
He messaged me the day I got Tinder. He sent me five messages in a row before saying "Ok I will stop boring you. All the best to you".
Ick.
Stage Five Clinger alert! God forbid I'm allowed to be too fucking busy to respond to a complete stranger on a phone app. I replied saying that I had been at work quite early (true) and that I go to sleep quite early (massive lie) as an excuse for not responding. He was somewhat happy with this response and sent me two emoticons in the next message telling me how cute I was. The conversation continued on a five to one message ratio, with him telling me that I was 'so beautiful' and 'also you like dogs' (clearly, that's secondary to being 'so beautiful').
I asked him vaguely if he would like to meet for coffee, so that I could rip off the band aid and get this date over with. He then bombarded me with messages, saying that he was free at 4.30, whether that was okay, what I thought about this, sending a singular question mark, then telling me that "he would really like to understand what's in my mind and that it is so rude of me." 
Looking back on this crazy exchange, I was clearly too focused on this 30 day challenge to stop and cut my losses. I felt like if I had invested my cellphone number and a small portion of my time, I had to at least try and make amends. I faked an apology and he asked me to respond to his texts in a timely manner, since the two hour lag between my texts was simply too much for him.
That week we texted on and off:
Date #19: "Do you have any time to meet me this week?"

Me: "When do you want to meet?"

Date #19: "Saturday will be great. But I'm scared whether you will reply to me on Saturday :("

Me: "What do you want to do?"

Date#19: "Movie or dinner? Really want something quiet."

Me: "Dinner would be good." [Sidenote: I hate movies on the first date].

Date #19: "Cool! I can't believe it but am looking forward to that."

Me: "Give me a chance! What do you do in Wellington?"

Date#19: "No worries, I just don't like games and I've had enough of girls' games! So let's start it again! I live here I have two jobs actually, I told you about that, wbu?"
Oh he hates games?
… I should have broken it off before it started.
On the Friday I had asked him whether he would like a drink that night. He then bombarded me with about eleven messages and told me to stop "playing with him".
I was so sick of all his shit and I hadn't even met him yet. I decided to CALL him as I was so agitated that I was contemplating yelling. I really wanted to tell him that I didn't actually owe him anything since a) we didn't know each other and b) he was coming across like a serial killer
When I did call, I kindly explained that I wasn't texting him back because I'm a massive Tinder whore who is dating the entire Wellington population  I was simply busy, but I was free tomorrow night and was able to meet up for dinner. I mentioned that I'd just had a big week of work and dating the entire Wellington region.
[Side note: I was so frustrated by this point that when I called him, I was reversing my car and accidentally rear ended my neighbour's car. If you're reading this, fellow Northland resident, I'm not even sorry.]
After this phone call he sent me four love-heart smiley emoticons and four love-hearts. Red love-hearts too. Is there such thing as a Stage 6 clinger?
On Saturday, he sent me a text in the morning telling me how much he was looking forward to that night. Being the cock-tease I am, I responded with a "Me too, x". He then messaged me saying that he just saw me out with a black dog. That was true, but what he probably didn't know was that I was off to Memphis Belle for a coffee with his predecessor. He told me then how beautiful I was with another red love-heart emoticon before asking if 7pm at Bluewater Grill on Oriental Parade suited me.
I don't think anyone really realizes how exhausting dating can be when you have two jobs, a small dog, a big mouth and a huge appetite. You have to put in effort to be funny and adorable. My brain was full of nothing and yet I was exhausted and not even thinking about what I should and shouldn't say to these Tinder potentials.
Anyway, because of the exhausting life I was leading, Richie and I had a nap on Saturday afternoon at around 4.30pm when he texted me. Experts say that naps should be around 20 minutes otherwise you're technically just asleep on a Saturday afternoon. Because I was napping for two hours, I was technically sleeping an hour before meeting Date #19 at Bluewater Grill.
Yeah.
I'm a bad person.
Instead of jumping out of bed and urgently getting ready like a good person, I just texted him asking if we could push that to 7.30pm and (naturally), fell back asleep.
I woke up again at 7.11pm when I realised that I was going to be late again, so I texted him asking if 8pm was going to be okay, since I was "getting ready and running late, x".
This guy sent me back four angry emoticons followed by a smiley face. I asked whether he had left already. Sure enough, he had and I was barely dressed and basically mucking around. I'm notorious for being late (less so since people have constantly mentioned it after reading my blog) but this was just pure bad form on my behalf. At 8.10pm, I got a text asking if I  was still coming.
I was, I just hadn't left yet. Appropriate YOLO.
Finally, at 8.23pm – about an hour and 15 minutes after the original time, I showed up looking like Ariana Grande since I had watched a YouTube clip while I was getting ready for some inspiration. I went for the adorable look and pretended like I was so clumsy and cute, claiming that parking was so hard (given the 100 options I had outside Oriental Parade in the middle of Winter, how could I even choose?).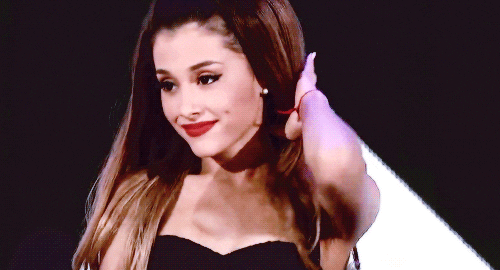 I expected him to react along these lines, since I was technically an hour and a half late:
But instead, he stood up and greeted me with a kiss on the cheek.
When he stood up I had this horrible realisation:
He was a lot shorter than his Tinder pictures had led me to believe. I mean, I enjoy a bit of dramatic exaggeration, but come on, lie about the size of your dick, not your height!
He was barely taller than me and I'm 5ft! Ladies, never trust a man on Tinder that only has face shots, with no pictures of him and his friends because it either means he's a tiny little man trying to hide it, or a loser with no friends to take pictures with. No wonder he had abs, there was only 20cm of real estate to tone!
I'm not one to get awkward but this whole night was just too much for me to grin and bear. I found out that Date #19 didn't drink because he was religious and into his (20cm) abs and ordered a coke when I ordered a wine.
I was so excited for that wine.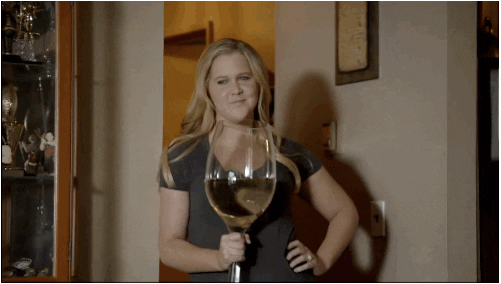 I tried to be as sweet and innocent as possible and tried not to act like myself at any point. The guy was telling me how much he loved this restaurant (which has a 2.4 average rating on Zomato, FYI) and was so excited to finally meet me. He was from South America, loved his Mum and talked a lot about meeting a nice girl. He was in his mid 30's and I could see why he was a little unlucky despite having a six-pack. He was relatively good looking, I was just shocked at how small he was in comparison to how he looked on Tinder.
I decided to get the same meal as him as he ordered a plate of grilled meat with a side salad. The conversation progressed slowly, to the extent that I checked my phone four times before our meals came out. I forgot to mention that we were the only people in the restaurant, so this poor guy was waiting for almost an hour and a half along in the restaurant sending me emoticons.
When the mains finally arrived, the only other two people in the restaurant came out (staff), one carrying the food and the other carrying a small white teddy bear and single rose.
Man, this was actually the worst thing that could happen.
I was mortified that he had done this. I know that he was sincere but this was also kinda creepy. I couldn't deal. I thanked him and gave him a kiss on the cheek, genuinely blushing before resuming my plate of grilled meat.
I thought that things couldn't possibly get worse that this, but they did. When I was eating my salad (that had far too much cheap dressing flooding it), I noticed there was a moth swimming between the sauce and the lettuce.
Of course there had to be an insect in my food. This date couldn't get better otherwise!
I didn't want to bring up the moth situation to Date #19 because he seemed emotionally ill-equipped to handle it. However my disgusted face betrayed me and he began panicking and thinking that he had done something to offend me.
"What have I said?" "What have I done?" "Tell me Melissa, what have I done". 
He was so quick to overreact, I would hate to see him in an actual disaster.
I finally told him about the moth and he was kinda just like "Oh okay",  as though it was completely normal to have an insect in your salad, and then he kept on talking whilst I decided that I was full and that I needed to leave. ASAP.
When I told the waitress/only other people in the restaurant that there was a bug in my salad, they offered our desserts for free as compensation. There was no way I could stomach more food after that and, luckily, Date#19 wanted to maintain his ab real estate.
When we went up to pay (I REALLY wanted to pay half), they offered us 15% off since I dined with a moth and Date #19 blocked me out of the way to pay for my (much-needed) wine, his coke and our two mains.
Turns out he had walked to the restaurant (of course he had) so I offered to drive him home and he graciously accepted. After a five minutes of driving, we got to his and he invited me inside to watch movies.
"Sorry I'm not that kind of girl" I insisted before he pashed my face and I egged him out of the car because I was 'tired'.
Then I drove to Motel to pash Date #1 again.